In our case, we are proud to announce that Rod Eccles, DDS, has been named to Indianapolis Monthly's list of best dentists for the 11th consecutive year. The Top Dentists list is chosen by our peers in the dental community, which shows you the respect that other dental professionals have for what we do at our office in Plainfield, IN.
Call 317-682-0884 to schedule an appointment at our award-winning general dental office. We hope to see you soon!
Come Here For Complete Dental Care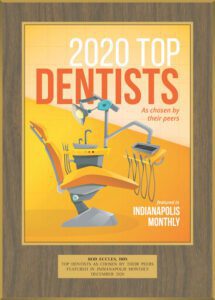 You and your loved ones deserve excellent care. We are more than prepared to provide that in our comfortable office. By visiting us you can take advantage of what we offer:
Preventive Care – Our focus is on preventing problems whenever possible. Visit us for regular dental cleanings and exams. We also offer fluoride treatments to strengthen teeth and dental sealants to protect against harmful bacteria.
Restorative Treatments – If problems do occur, you can count on us to get your smile back in shape. We offer everything from dental fillings to full-mouth reconstruction. Turn to us whether you need to take care of tooth decay, replace all your teeth, or anything in between.
Cosmetic Services – Whether you want to make your smile better today or many years from now, you can talk to us. You can make small changes or complete a total smile makeover. Let us help you have the smile of your dreams.
Patient-Centered Care – Your comfort is a top priority when you visit our team. We have incorporated advanced technology like The Wand® to keep you pain-free. We also improve the effectiveness of your visits with equipment like the Cavitron ultrasonic scaler.
Caring For People Is What We Do
Dr. Eccles has been helping patients for more than 30 years. He has earned his reputation from focusing on professional service for patients of all ages. He treats toddlers, teens, adults, and centenarians.
He also designed his offer to be something different than the chain practices that rush you in and out the door. Dr. Eccles and the rest of our team believe you deserve personalized care based on your comfort and your smile goals.
He remains committed to ongoing education. You and your loved ones deserve the best treatments and technology that modern dentistry has to offer.
For Dr. Eccles, dental care is a way to give something back to our community. That may be why he has been recognized so many years by his peer in Indianapolis Monthy's Best Of awards and by his patients in the Opencare Patients' Choice Award twice.
Discover What We Can Do
We are humbled by the recognition we receive. However, our biggest pleasure comes from seeing the smiles on the faces of our patients. We hope to see you and your loved ones next year and for many years to come.
To schedule a cosmetic consultation with Rod Eccles, DDS, call us today at 317-682-0884 or fill out our convenient online form.